If you want to get the maximum use out of your paint booth, consider investing in some upgrades. Accessories such as all-in-one control panels, LED lights, and AMUs improve your booth's efficiency and performance, and special coatings simplify cleaning. Learn more about how to save money with the right accessories for your spray booth.
Mixing Rooms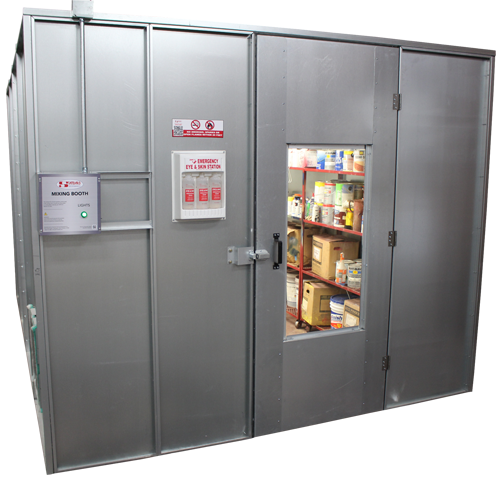 It may seem easy to just store your paints, primers, glazes, and other chemicals in the corner of your shop, but keeping these things in the open presents a fire hazard. And it's difficult to clean up accidental spills all over your shop's floor.
With a well-built mixing booth, you have a dedicated and safe place to store your paints and stains. All of our mixing rooms are ETL-certified and compliant with NFPA standards. Built-in ventilation systems run continuously, removing the fumes and harmful particles created by mixing and storing paint and other chemicals.
Energy-Efficient LED Lights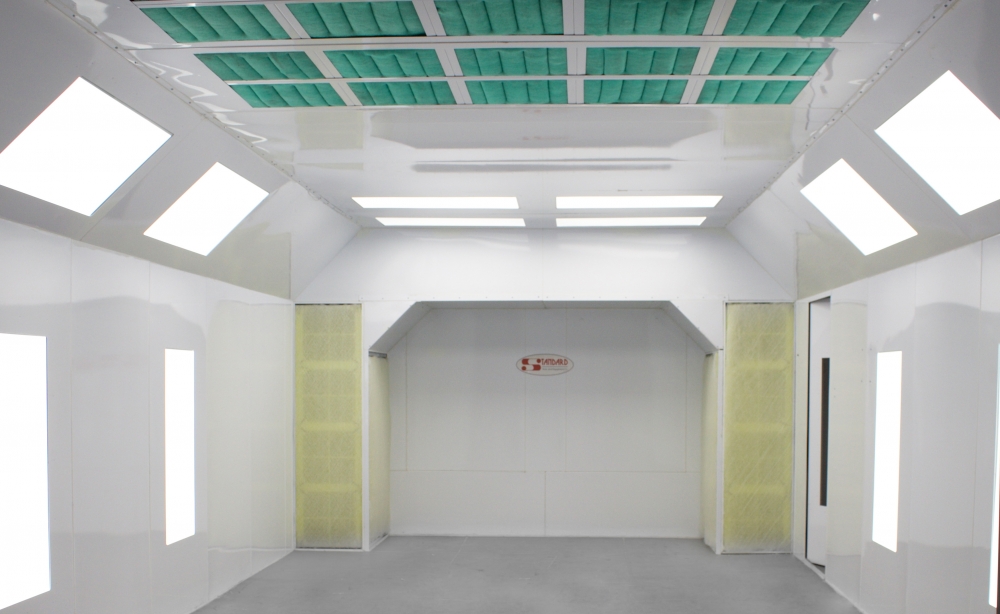 Your paint booth probably has lights already, but built-in illumination isn't always optimal, especially for finishing jobs that require a lot of precision. When you upgrade your booth to energy-efficient LED flat-panel lights. The LED lay-in panels are slim and easy to install, and are suitable for both heated and unheated booths. LED panels drastically reduce energy use, costing you less money on each power bill. Additionally, they last for an extremely long time and come with a five-year warranty. Our panels have up to 60,000 hours of run time, which equates to over 6 years (if you left them on 24/7). Another great benefit is that your energy company may give you a credit for upgrading to LED so the upgrade isn't as costly as you think.
Air Makeup Units (AMU)

To keep the proper air pressure in your paint booth, you need to replace the air that gets exhausted during operation. The easiest way to do this is with an air makeup unit (AMU), which balances air pressure inside the booth by automatically providing the right amount of replacement air.
Installing an AMU is a better, more-efficient solution for air pressure management than trying to use the HVAC system to regulate the air pressure in the shop. Plus, AMUs are heated, so there are even more benefits:
Faster finish times
Temperature control for even curing
Fewer airborne particles and contaminants inside the booth
A heated AMU can be one of the most cost-effective upgrades for your paint booth.
Air Hose Storage Solutions
Air hoses that are left can be a tripping hazard. Easily keep your air lines stored in reels to your air hoses from getting tangled or tripped on during operation. Many air line reels can be installed anywhere, and come with automatic retraction systems that prevent the hose from becoming loose or unrolling.
Easy-To-Clean Coatings
To keep your spray booth functioning properly, it's essential to clean the overspray that gets on the ceiling, walls, and floors. This can be a tedious job, but there are several accessories that can make it easier. White Out coating is a water-based spray that creates a film that covers paint booth walls, restoring a "like new" appearance even in booths with extensive overspray. The new white walls improve light quality in the booth. When the film gets covered with overspray, you can simply peel it off and respray the White Out on your booth's interior.
It's vital to keep the air inside the booth as clean as possible to reduce dust and debris that can ruin the quality of a finish. This adds to the life of your paint booth filters and keeps your paint booth fan clean. The Grippy Mat is a floor mat that traps dirt, dust, and overspray, reducing the chance that these particles will enter the airflow inside the booth. Our starter bundle includes a Grippy Mat floor covering, particle control solution, and an easy-to-use sprayer.
Operational controls
A paint booth control panel simplifies operation, allowing you to manage your booth's lights, exhaust fans, and other crucial hardware from one point of contact. All of our ETL-certified spray booths come with electric control panels. If you purchase an uncertified booth model, you can upgrade to one of our ETL-listed control boxes; we have both single-phase and three-phase models.
Optimize Your Paint Booth with Key Accessories
If you want to make it easier to operate, monitor, and clean your paint booth, consider upgrading it with some accessories. We carry a wide range of top-quality options, and you can count on our team for advice about which upgrades are best for your booth and shop. If you have any questions about choosing the right lights, AMU, or control panel for your booth, contact our friendly sales team. We'll provide expert solutions completely customized for your needs.