Leading North Carolina paint booth manufacturer announces the big brother to their Sure-Cure® Air Makeup Unit Line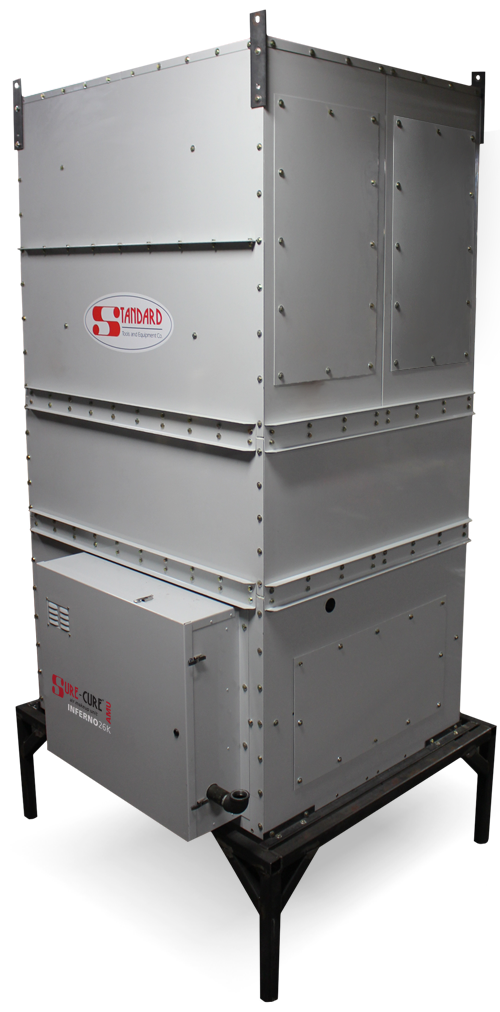 February 20, 2015 – GREENSBORO, N.C.—Standard Tools and Equipment Co. has been designing and manufacturing paint spray booths since 1997 and has built over 18,000 paint spray booths. In October of 2013, the company announced the release of their own air makeup unit (AMU), the Sure-Cure® AMU Ignite, available in 10K – 14K CFM with ETL certification.
Standard Tools and Equipment began 2015 with the release of the Ignite's big brother, the Sure-Cure® AMU Inferno. Available in 17K – 26K CFM, it is also ETL certified and available for larger paint booths and truck booths.
Both units are designed, manufactured and sold by Standard Tools and Equipmen­­t from the Greensboro, North Carolina plant.
"The launch of the Sure-Cure AMU Ignite in 2013 was successful, we were selling units before we even announced the development. We got such positive feedback from our customers on our unit and our shipping times, that we got right to work designing the larger unit," said Standard Tools and Equipment Co. CEO Michael Kestler. "We continue to offer products to our customers that meet our high standards of excellence at an affordable price. Our AMU line provides them a safe and reliable unit with all the bells and whistles included in the marketed price. With the addition of the Inferno unit, we can provide a unit for any size booth they may have."
One of the gaps in the market that the company noticed was the extremely long production times in ordering an AMU. We could design, customize, build and ship a paint booth in less than 10 days but our customers were waiting months for their air makeup units, which were sourced out at the time.
After some research, Standard Tools and Equipment decided that they wanted to start developing their own units. They were determined to make their air makeup units safer and quicker … to meet the needs of their customer.
"We have built an extraordinary unit that can be built to the customer's specifications, and shipped within just 2-3 weeks," John Mauney, Director of Manufacturing at Standard Tools and Equipment Co. "We're offering our customers the opportunity to be up and running quicker. We understand that they have a business to run and we want to help them do that."
For Standard Tools and Equipment, that's exactly how they began to make paint booths back in 1997. "We noticed a major need and as a player in the industry for many years, we already had all the right components to meet that need," Kestler said. "We have used our experience to develop over 18,000 booths that are unsurpassed in performance and value for our customers."
As one of the largest Paint Booth manufacturers in the United States, Standard Tools and Equipment Company pulled together everything they had learned over the last 15+ years to develop air makeup units. Safety was important as the company started to plan out how their unit would be different than others on the market. Many safety features complete this AMU, including flame failure reset, multi-service disconnect and a low-flame auto setting at the loss of power. Their units are designed to be the safest available on the market today.
For more information on the Sure-Cure AMU products, visit https://www.paint-booths.com/category/paint-booth-air-make-up-units.html