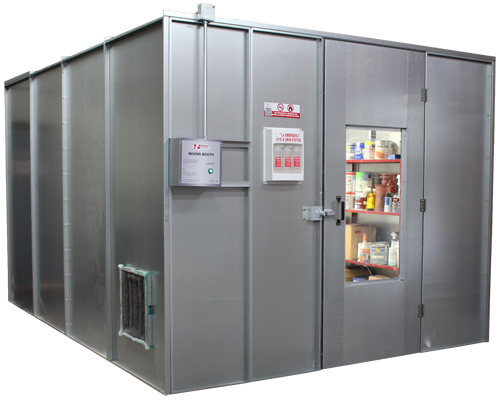 Whether your shop is dedicated to painting automobiles, creating furniture, or finishing cabinets, having the right equipment makes all the difference. Even if you already have a spray booth for finishing your products, you may want to consider installing a paint mixing booth. Investing in a dedicated paint mixing room can significantly improve the safety and productivity of your shop.
Benefits of a Paint Mixing Room
Mixing and storing paint and finishing products on an industrial scale requires planning and preparation. With a dedicated paint mixing room, you can increase the efficiency of your workflow and bring your shop into compliance with safety standards and local codes.
Safety
One of the most important benefits of a paint mixing room is an improvement in your shop's safety conditions. Most finishing products, including paint, varnish, and solvents, are extremely flammable. It's essential to keep these chemicals away from heat sources, which is far easier when you have a dedicated room in which to mix and store them.
Productivity
You can greatly increase the productivity of your operation by installing a paint mixing room. It gives you a secure, separate space in which to organize and store all your finishing products and mixing equipment. Having everything in one place can eliminate the need to find and set up equipment every time you want to use it. It's far easier to deploy spill containment measures in a dedicated space.
Code Compliance
It's essential to make sure your operation complies with safety and building codes. Installing a mixing booth can make it easier to ensure you are following all relevant legal requirements. Both the National Fire Protection Agency and the Occupational Safety and Health Administration have regulations that apply to mixing and storing paint and chemicals. Paint mixing booths are designed around these requirements, so installing one in your shop is a simple way to establish compliance with essential codes.
Reduce Contaminants
A mixing booth allows you to mix and store finishing products in an isolated environment where you can filter the air, significantly reducing dirt and other foreign matter. Lowering the amount of dust and debris in the preparation area helps ensure your finishing products are free from contaminants that can damage the final quality of the finish.
Air Quality
Primer, paint, lacquer, and other products used in the finishing process can release toxic fumes that can damage indoor air quality and present a risk to shop personnel. A paint mixing room has built-in ventilation, which can help reduce dangerous particulates in the air, improving the shop's working environment.
Paint Mixing Booth Design
A mixing booth is exactly what it sounds like: a stand-alone booth set aside for preparing and storing paint and finishing products. There are several key features to look for when choosing a paint mixing booth:
Heavy-duty wall panels
A secure door
Appropriate exhaust and ventilation components
A proper air intake filter
Excellent lighting
Code-compliant fire protection measures
Easy control panel for light operation
In many cases, paint mixing booths are designed for DIY assembly. It's essential to choose a booth that comes with clear, easy-to-follow assembly instructions.
Paint Mixing Booths and Code Regulations
A mixing booth is subject to vital safety codes, most of which are based on NFPA requirements and/or OSHA guidelines for different aspects of the design:
Safe storage for paint/flammable liquids (the allowable quantity is based on the distance between the mixing room and the spray booth)
Automatic fire protection system
Continuously operating ventilation fan providing adequate air movement
Appropriate size dimensions
Effective spill containment
ETL-certified electrical components
It's vital to choose a mixing booth that complies with these federal codes as well as any local safety regulations that exist in your area.
Getting Maximum Value Out of Your Paint Mixing Booth
A paint mixing booth is an excellent addition to your shop, making it easier and safer to organize, mix, and store your finishing products. When you are choosing a mixing booth, make sure to find one that fits well in your shop and complies with all applicable safety codes.
We make it easy for you to get the right mixing booth. Our mixing booths come in three standard sizes, but we can also create a customized booth for you in any size up to 150 sq. ft. All of our mixing booths are compliant with NFPA and OSHA standards, and they're also ETL-certified. We design our booths for easy assembly and offer flexible placement options for the door, light, and fan. Our production is fast, so you can get your booth up and running in just days. When you're ready to enhance your shop with a dedicated paint mixing booth, we are here to help. Contact our team for answers to your questions or details on our customization options.