During spray jobs in a paint booth, the exhaust system must draw substantial quantities of air out of the shop in order to operate. These volumes must be replenished with equal volumes of air coming into the booth.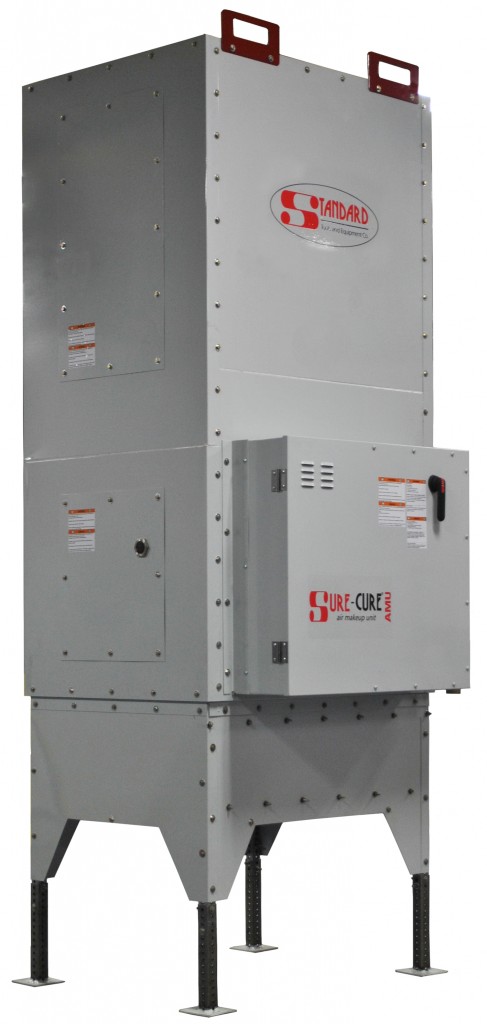 AIR MAKE-UP (AMU) is defined as…a mechanical means of replacing air that has been exhausted out of the booth.
It's simple…. it's all about paint booth air flow. How much air in being put into the booth and how much is being taken out. Airflow while spraying takes the over-spray away from the paint job and out of the booth.
Air in – Air out. Air in – Air out. Air in – Air out. Air in – Air out. That's it. With the Sure-Cure Air Makeup Unit, you control the amount of air pushed into your booth. Why would you need to push air into your booth?
NEGATIVE AND POSITIVE BOOTH PRESSURE
When the exhaust fan of the booth is turned on, it creates a "negative" air pressure in the booth cabin (taking out more air than is being put in). When there is a negative air pressure, the booth will try to suck in as much air as possible, including dirt and debris from outside the booth. THINK VACUUM CLEANERS.
To counter this "negative" pressure, an Air Makeup Unit (AMU) unit is used to supply air to replace the air being exhausted. If the AMU is designed to force more air into the booth than is exhausted…the booth is said to have "positive" air pressure. In this case, the booth has more air than outside the booth and when a door is opened, dirt and debris is pushed away from the booth. THINK STANDING IN FRONT OF A FAN. Continue reading PAINT BOOTH AIR FLOW: HOW IT WORKS