In this series, we'll look at some of the most common types of paint spray booths and their functions and benefits. This month's spotlight is on semi downdraft paint booths.
What is a semi downdraft paint booth?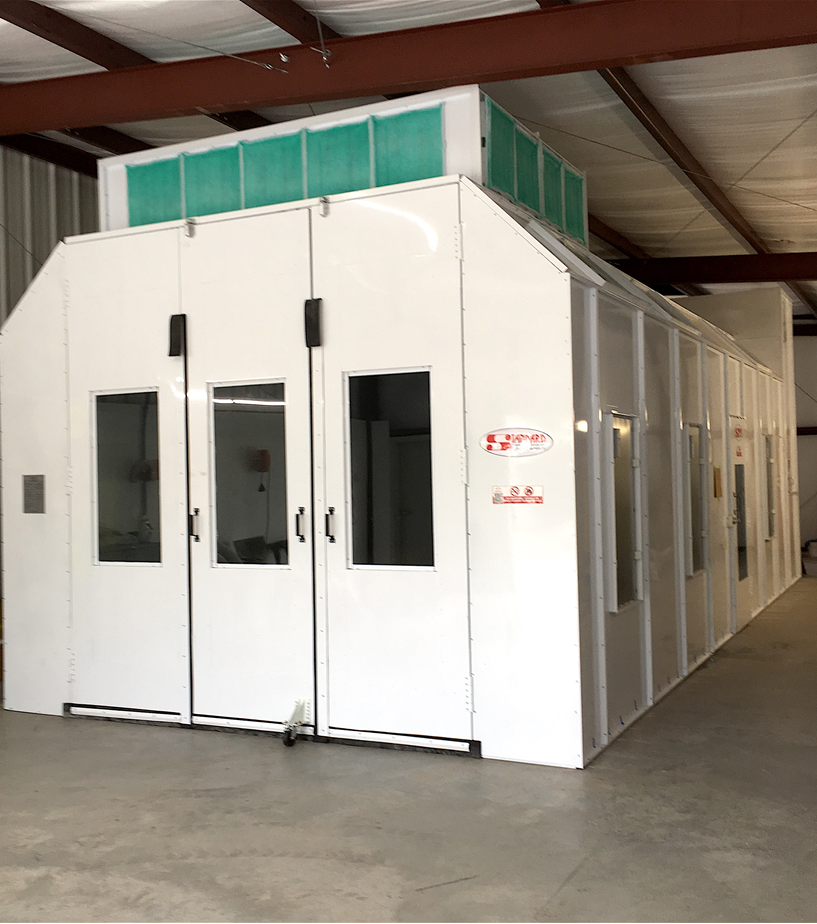 A semi downdraft paint booth is essentially a hybrid of a cross flow booth and a downdraft booth. Semi downdraft paint booths are available in several different sizes, from smaller booths that are about 20 feet long to 60-foot models that can accommodate large trucks. You can even get a booth with an integrated heated air makeup unit for faster curing times.
Semi downdraft booths generally feature a completely enclosed design with two sides, a ceiling, front doors, and a back wall. Air intake filters are located in the front portion of the ceiling, pulling air from the cleaner upper areas of the shop. The back wall houses the exhaust plenum. The booth sometimes is modified to include doors on both ends for a drive-through option. This styles also features a personnel door (or doors) on the sides, giving you the option to attach a clean entry room booth to reduce contaminants inside the booth.
How does a semi downdraft paint booth work?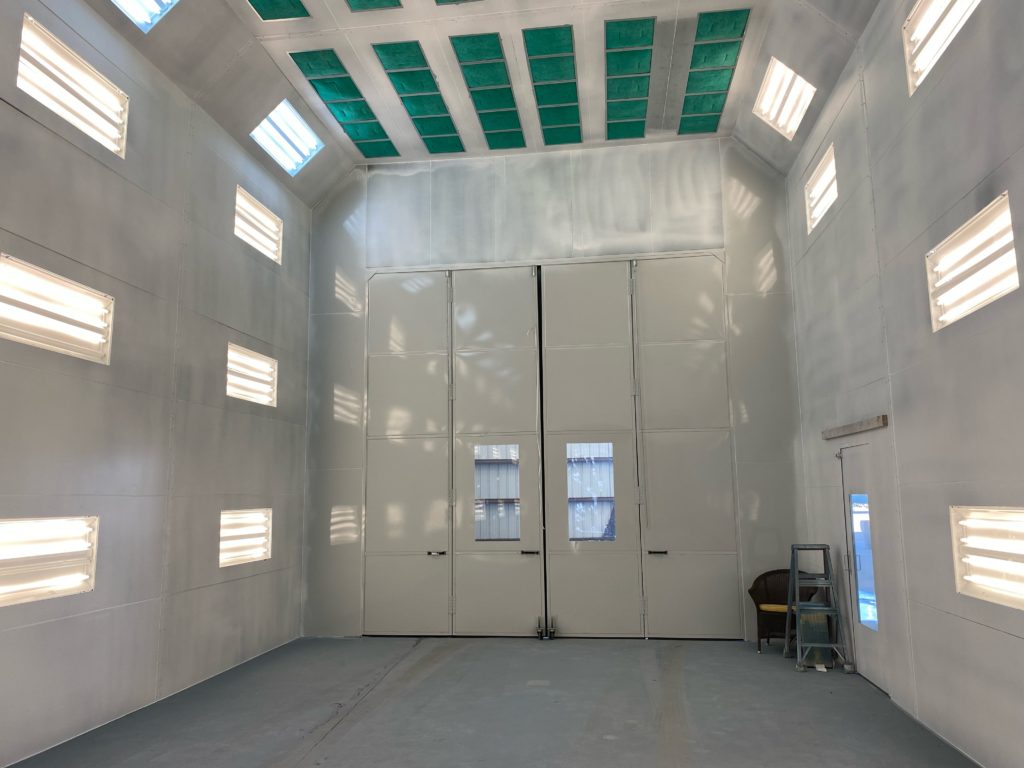 A semi downdraft booth pulls in air through the front quarter or third of the ceiling and directs it downward and across the booth toward the back wall. In most cases, the air is pulled into filters at the exhaust plenum in the back wall and then exhausted up and out through integrated ductwork. The airflow pattern in the booth is essentially diagonal: from the front of the ceiling to the back wall.
The airflow pattern in a semi downdraft booth helps direct overspray toward the exhaust filters. It offers some of the same benefits as a downdraft booth but doesn't require a pit in the floor, making installation easier and less expensive. The velocity of the air across the object can help the paint dry faster, and adding a heated AMU can speed up the curing process exponentially.
Top advantages of a semi downdraft paint booth
We call the "workhorse" in our booth lineup for the heavy workloads it handles with ease! It is used by more start-up auto body shops than any other model.
A semi downdraft spray booth offers several benefits:
More affordable than a downdraft booth
Minimal installation requirements (no floor pit needed)
Versatile applications
Airflow and temperature control options
Effective overspray and contaminant control
While a semi downdraft paint booth is an excellent choice in most applications, there are some potential drawbacks. It does not provide as much overspray control as a traditional downdraft booth. Additionally, the diagonal airflow pattern creates a "dead zone" near the front of the booth that can cause eddy currents that collect overspray, potentially harming the finish and exposing the painter to a high level of paint.
What is a semi downdraft paint booth used for?
Semi downdraft booths are very popular for numerous applications:
Automotive painting
Finishing small parts
Painting large vehicles: trucks, RVs, tractors, etc.
Finishing industrial equipment
While mostly used in finishing applications for cars, trucks, and other vehicles, the versatility and affordability of a semi downdraft paint booth makes it a great choice for many projects.
Find the perfect paint booth for your needs
Semi downdraft spray booths offer many benefits, making them useful in a range of applications. This unique paint booth style combines some of the best features of cross flow and downdraft booths at an affordable cost. The only installation requirement is a level concrete floor. Our semi downdraft booth is ETL-listed, offering you an easy-to-permit booth. This model is easily customizable to add length, width, additional light fixtures and more. If you aren't sure which style of paint booth is best for your shop, contact our expert team. We can recommend a model that meets your needs or design a custom paint booth to your specifications. To get started, contact our team directly, email us, or call us at 888-312-7488.