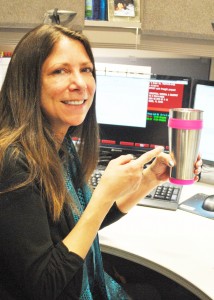 It's early Wednesday morning and I am just settling into my desk, big ole' cup of coffee in my hand and looking out the window hoping I will soon see a few snow flakes. As I start to sort through emails and check voicemails, I hear a big BRRRRRRRRING! It's my computer letting me know that a customer is online and wanting to chat!
So, I start my morning assisting a customer on our paint-booths.com site looking to get a heated booth. In this cold weather, I can't blame him! We chatted for a few, and were able to get him a quote quickly, while we both had our coffee.
We have recently added the "Live Chat" option to our web sites (www.paint-booths.com and www.toolsusa.com).  Don't worry- it's not Skype or a video chat — we can't see you sitting there in your PJ's (thank goodness).  While we are still getting used to communicating with our customers online, it's great for our customers to quickly ask a question or request a shipping quote. We also love it when our customer's just stop by to say hi. Look for the Bright Aqua Button on the left side of our site. (See Image) Continue reading Let's Chat ….. Online!