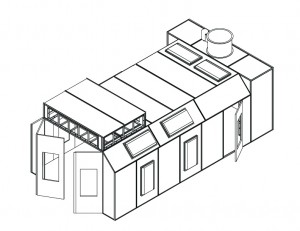 The WORKHORSE of our paint booth line is the popular semi-down paint booth, better known as the SD-1000. This model is used worldwide for automotive and industrial applications because of the durable and dependability it offers our customers! It is used by more start-up auto body shops than any other model because it can handle heavy workloads with ease!
Designed to move air across the vehicle in much the same manner as the more expensive booths, air is pulled from the cleaner upper levels of the shop.  Once air enters the booth through the half canopy, it moves in a cross-downward angle (down and across) to the exhaust filters, located at the opposite end of the booth. By utilizing a filtered canopy along with filtered ceiling panels, the air is filtered twice, making it one of the cleanest booths on the market today.
The SD-1000 Semi-Down booth is designed to work with or without an air makeup unit.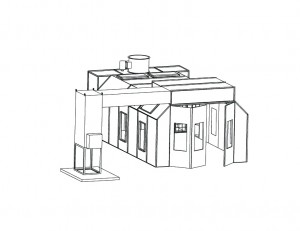 Air Makeup Units allow you to be more productive because it can cure your paint job in under an hour. Many customers choose to add the air makeup unit to the booth at a later date. This allows the shop owner to purchase equipment in stages, adding additions and modifications to their SD-1000 Semi Down Booth when they can afford it.
Manufactured in North Carolina, the SD-1000 Semi Down Booth is easily customizable to add length, width, additional light fixtures and more! We can manufacture and ship quickly to anywhere, worldwide!
Features:
–        Inside Working Dimensions – 14′ W x 9′ H x 26′ 61/2″ L
–        Outside Dimensions – 14′ 3″ W x 11′ 11/2″ H x 26′ x 9 1/2″ L
–        Great lighting: fluorescent 2' x 4' fixtures with 4 lamps in each fixture
–        TRI-Fold doors with glass are double skinned to look great and offer extra durability
–        This booth can be modified to have drive-through doors for extra productivity
–        This booth is also available in a reverse-flow design
–        36" x 84" Personnel door with glass
–        Front doors with clear tempered glass
–        Assembly instructions/permit package
–        UL approved electrical components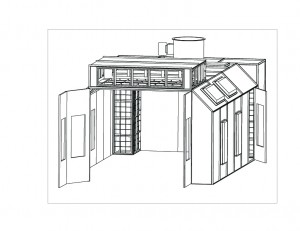 Optional Add-on Features:
8′ x 34″ exhaust duct work package
Additional 4′ section of exhaust ducting
ETL-listed NEMA 1 control panel
Additional light fixtures
Additional length
Additional height
Drive-through doors
White Powder Coated Finish (Inside and Out)
Visit www.paint-booths.com for more information on this booth, to order or to see our complete line of booths! Contact our sales team at 888-312-7488.