We have designed a heated downdraft full-sized paint booth. The downdraft paint booth supplies filtered air to the booth through the full-filtered ceiling, and exhaust the chemical-containing air through filters below the grating on the floor. The air is directed downward, and the paint vapors and overspray are carried downward. So, the toxins do not pass by the painter's breathing zone. This design is built for a pitted exhaust system. Although we provide the grating and the floor filters, we do not include the installation of the actual pit.
Since this booth is heated, the intake air is passes over the Sure-Cure direct-fired air make up unit (AMU) before it is pushed down through a full-plenum filtered ceiling.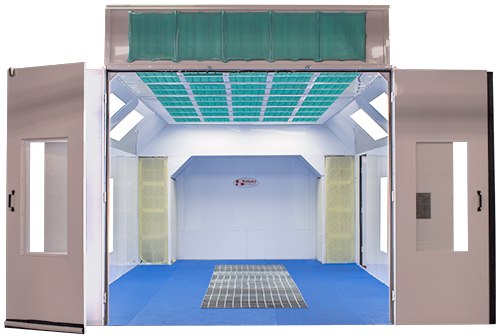 We provide the booth, the Sure-Cure air makeup unit, the floor grates and filters for your downdraft paint booth. We are the manufacturer and can customize your booth to fit your needs. So, if you want to add lights, have double drive-thru doors or make your booth taller, just give us a call for a custom-designed booth.
---
The basics about this booth:
14′ W x 9′ H x 22′ 9″ L – interior dimensions
18'11" W x 11'1 1/2″ H x 23′ L – exterior dimensions
10′ W x 9′ H entrance doors
30" tube axial fan for 15,000 CFM of exhaust
TEKS Screw construction for easy assembly
Air tight 18-gauge galvanized steel construction
Clear tempered glass in entrance and personnel doors
(10) 48″ 4-tube fluorescent light fixtures (bulbs are separate)
Intake filter grids – 20″ x 20″
Center Pit exhaust 20' x 4'
All hardware, fasteners, sealants
Draft gauge
UL approved components
Sure-Cure 14k CFM Air Makeup Unit – 1.2mil BTU
Optional features for this booth:
Exhaust Duct Work
Single-phase motor
Case of florescent bulbs
White Powder-Coated finish, both inside and out
Drive-through doors
Additional lights
---
Some of the features of the Sure-Cure AMU that comes with this booth:
Variable Frequency Drive (VFD) is an electronic motor starter that controls the speed of the exhaust fan with the turn of a knob. You have more accurate control over the airflow inside the booth.
Control the Cure: Whether you are painting with bases, clears, solvent-based or waterborne, you control the temperature for the cure cycle.
Multi-Service Disconnect
Flame Failure Remote Reset
Loss of Burner or Flame Reset
Loss of Thermostat Connection
Loss of Power to Temperature Controller or Flame Controller
Auto Shut-off: At the end of the Curing and cooling cycles, our unit will shut off completely. This allows you to be able to focus on other things, take a break or go home, knowing that your unit is safe and will turn off when it is complete.

---
AMU Stats you need to know:
10,000 cfm – 14,000 cfm
Available for liquid propane or natural gas
1.2 million BTUs
All controls and major components are UL and/or CSA listed
ETL listed / cETL Certified
Remote control panel for booth pressure, temperature, time and booth lights
Quiet (65 dB) 10-hp AMU fan
80-F temperature rise in 30-seconds! (100-F cure temperature rise to 160-F)
State-of-the-art burner and controls


---

As always, it's important to do your research before buying your booth. Have you thought about these Top 10 Things?