We have designed a heated downdraft full-sized paint booth. The downdraft paint booth supplies filtered air to the booth through the full-filtered ceiling, and exhaust the chemical-containing air through filters below the grating on the floor. The air is directed downward, and the paint vapors and overspray are carried downward. So, the toxins do not pass by the painter's breathing zone. This design is built for a pitted exhaust system. Although we provide the grating and the floor filters, we do not include the installation of the actual pit.
Since this booth is heated, the intake air is passes over the Sure-Cure direct-fired air make up unit (AMU) before it is pushed down through a full-plenum filtered ceiling.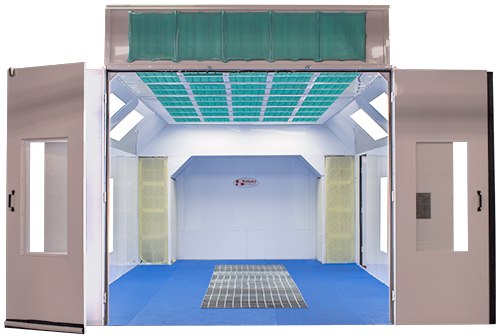 We provide the booth, the Sure-Cure air makeup unit, the floor grates and filters for your downdraft paint booth. We are the manufacturer and can customize your booth to fit your needs. So, if you want to add lights, have double drive-thru doors or make your booth taller, just give us a call for a custom-designed booth. Continue reading NEW! Heated Full Downdraft Booth.