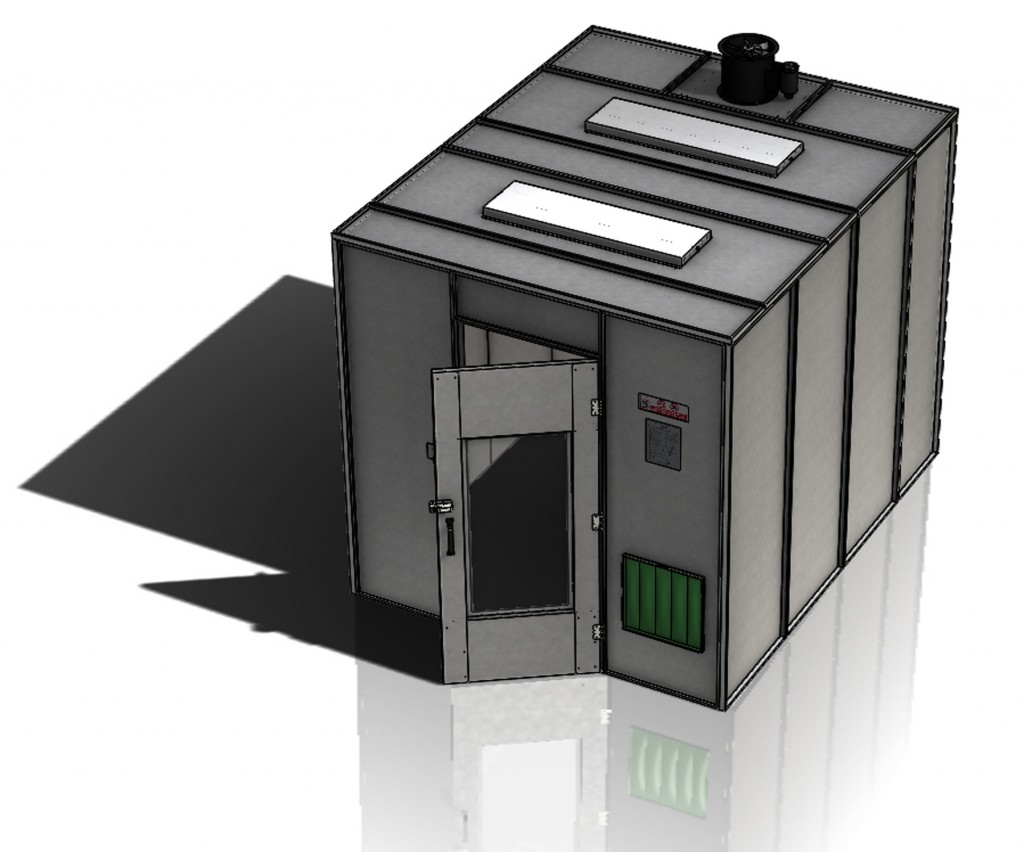 Many industries work with hazardous solvents that expose workers and facilities to hazardous and dangerous working conditions. Industries such as chemical, electronics, pharmaceutical, and various industrial processes have explosive environments that require the equipment to be specially constructed to minimize the risk of gas or dust ignition. The industrial spark-proof room (ISPR) from Standard Tools and Equipment is a ventilated and controlled environment for working with highly flammable and dangerous materials.
For use with different applications:
· For use as a clean room
· Solvent distillation and extraction
· Caffeine extraction and recovery
· Hazardous solvents
· Ethanol distillation
· Compressed gas bottle storage
· Parts cleaning
· Chemical synthesis
· Dust handling
· Furniture stripping
· Compliant
Codes are written and enforced to keep you as safe as possible when working with dangerous materials. Our ISPR is designed to meet National Fire Protection Association (NFPA) and the International Fire Code (IFC) standards.
Class I, Division 2
Our industrial spark-proof room is a class I, division 2 workspace. Class I location indicates that flammable gases or vapors may or may not be in sufficient quantities to produce explosive or ignitable mixtures. Division 2 indicates that the hazardous material has a high probability of producing an explosive or ignitable mixture due to it being present. All electrical wiring is specified to be Class I Division 2 wiring method as per NFPA-70 or National Electric Code chapter 500.
Components are "Spark Proof" rated
The lights in the ISPR are accessible from the inside and are rated for hazardous use. As a safety feature, lights automatically shutoff when light panel lense is opened. The fan is spark-resistant and the motor is fully-enclosed. The ISPR comes with an electrical control panel that must be 5' from the booth, and wired with rigid conduit.
Systems are designed for use in interior space protected from rain and snow.
Supply and exhaust vents located near floor level to exhaust heavier-than-air gases.
Exhaust
The exhaust fan is of nonferrous construction and operates continuously at a lower CFM rating with the motor carrying a hazardous location label. The ISPR is not designed for applying paint.
Fire Suppression System
A fire suppression system is available at an additional cost, and recommended to be installed to the ISPR.
Available to fit your needs
Standard Tools and Equipment Co. is the manufacturer of the ISPR. There are basic model sizes offered, or it can be customized to fit your needs.
Specifications for the ISPR-1000:
· Dimensions: 8' H X 8' W X 8' D
· (2) Inside Access Light Fixtures (Bulbs not included)
· 18-gauge galvanized steel
· Control panel for Lights
· Continuous funning fan
· Compliant for NFPA and IFC codes
· TEKS Screw construction. Easy assembly!
· Ships direct from the manufacturer in North Carolina
· Made in USA. All components are from N. America.
· Exhausts through the continuous direct-drive radial blower fan.
· A larger access door with observation window – 37″W X 84″H
· All hardware, fasteners, sealants
· Optional white powder-coating available inside and out
Save