Your paint booth has many different parts that perform specific functions, but one of the most important is the control panel. This guide covers all the essentials of spray booth control panels so you can understand how they work and how to use them safely.
What Does a Paint Booth Control Panel Do?
As the name implies, a control panel allows you to operate the paint booth's lights and fans from one central location near the booth.
How It Works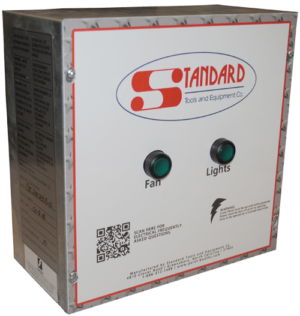 Inside the control box, there is a contactor that's linked to the "Fan" button on the panel. The contactor is a device that starts or interrupts an electrical circuit. So, when you push the "Fan" button, the contactor establishes the circuit to start the exhaust fans. The "Lights" button is linked to a contactor that controls the lights inside the booth.
We offer many types of control panels, including one designed for mixing rooms and others that work with different paint booths based on their voltage, horsepower, and phase requirements. For example, we have a one-motor, one-phase control panel that can control a single fan motor and is available in four different horsepower/voltage configurations. If your booth has two exhaust fans, check out our two-motor, three-phase panel that's available in two different horsepower/voltage configurations.
Our control panels are engineered to make your booth easy to use. Along with operating the fans and lights with just a push og a button, they also have the ability to control paint spray guns through an air valve solenoid. The solenoid's wiring is already connected inside the panel so it is an easy hookup to the AVS terminals.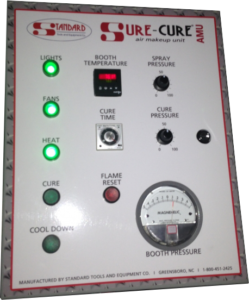 We also build control panels with each of our Sure-Cure Air Makeup Units (AMU). These panels are similar, but they are larger in size because of the additional features an AMU allows. These boxes operate the fan and lights… but it also allows the operator to set the booth's pressure and temperature as well as set the unit into "Cure" mode to complete the paint job. These control panels have a ton of safety features built into the unit for the operator's safety
Can You Switch or Upgrade the Control Panel in Your Paint Booth?
We offer ETL-listed control panels that are certified by Intertek. These panels have internal components that meet ETL certification requirements, ensuring that they comply with the highest safety standards. This certification mark is found inside every control panel we build.
What Are Control Panel Safety Regulations?
Paint booths and their control panels are regulated by several different organizations, most of which manage electrical standards and fire safety rules. All of our control boxes meet ETL guidelines and are certified by Intertek. Our manufacturing shop is UL508A-certified, meaning we have met the standards that apply to industrial control panels for general use. Control panels are included with the ETL-listed paint booths that we offer. You can feel confident that the equipment meets the highest international product safety standards. Control panels can be sold with non-ETL booths or can be added to an existing paint booth from another manufacturer.
For safety, our paint booth control boxes have a time-delay mechanism that's set to three minutes. Fire code in most places requires this three-minute delay feature. This means that after you push the "Fan" button to stop the exhaust fans, they will run for three additional minutes before shutting off. This is a safety feature that allows the booth to exhaust any remaining paint fumes and vapors out of your paint booth, preventing a fire and safety hazard.
Trust Us for Top-Quality Paint Booth Equipment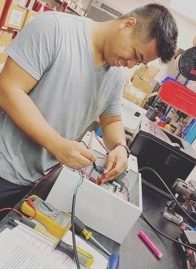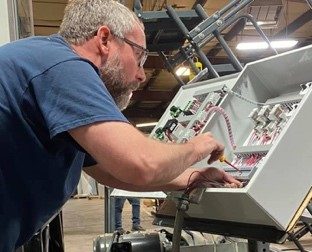 At Standard Tools and Equipment Co., we have been manufacturing spray booths, mixing booths, air makeup units, and control panels since 1997. We build products that meet the highest safety and quality standards while providing a value for our customers. We design and build these products from our facility in Greensboro, North Carolina with all American-made components. Our team can answer your questions about control panels and help you choose the right ETL-listed box for your paint booth. To get in touch with our expert team, call 888-312-7488 or email sales@paint-booths.com.