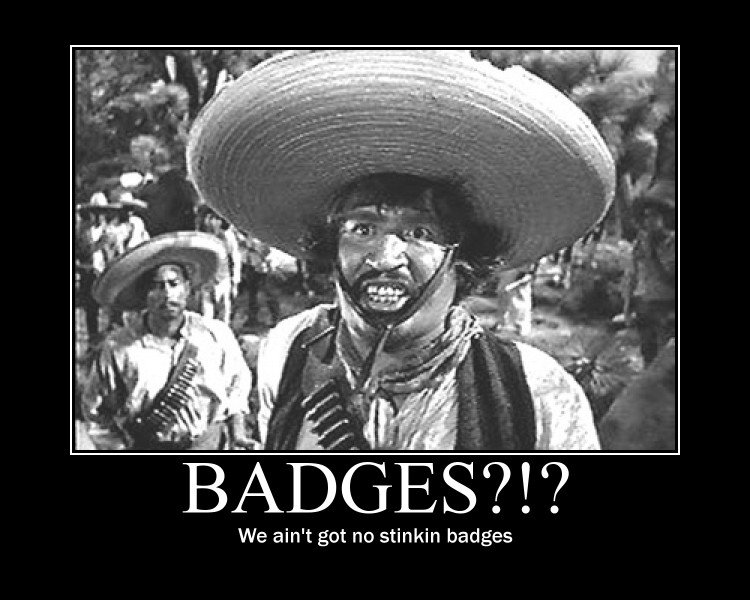 Treasure of the Sierra Madre is a movie released in 1948 with Humphrey Bogart.  This movie is not rated as one of the best or most viewed, but it gave us a one liner that is often repeated.  In the movie Bogart and his group, along with several other groups of ne'er-do-wells, are looking for a lost treasure of gold.  One group tries to fool Bogart and his gang by acting as Mexican Federales (or mounted police).  "If you are Federales", asks Bogart, "where are your badges?"  The bandit leader replies, "Badges?  We ain't got no badges.  We don't need no badges.  I don't have to show you any stinking badges!"  Great line, but what does it have to do with spray booths? I feel like that is what customers say about exhaust filters for their booth. "Filters? We don't need no exhaust filters."
One of the main purposes of a spray booth is to capture overspray.  You do not want it to exhaust on top of your building.  Your co-workers do not want it deposited onto their vehicles in the parking lot.   You neighbors do not want it on their property.  The government does not look favorably on the overspray getting to the atmosphere, plants, soil or water.
Why would you paint in a booth without filters? Maybe the filters have too much overspray and you're waiting for replacement filters.  Maybe the painter was asked to spray something while the booth was being cleaned.  Maybe the painter chose to continuing spraying in a booth when they knew that the filters were not properly fitted over the filter holes.  These are short-term decisions that lead to long-term problems.
Why should you never paint in a paint booth without filters? Look at these photos that show excessive overspray buildup on the fan, in exhaust ductwork and in an exhaust plenum after ten years of limited use.  This was a just a touch-up booth, not a production-level booth, but the overspray was 1.5" thick in some areas. The dangers od using a booth without filters is that it will ruin your fan, motor, ductwork … but most importantly, old paint is just as flammable as new paint.  Old paint inside a fan housing or ductwork will dramatically reduce the airflow and safety of the booth.  Allowing overspray to accumulate sets a lower standard for general safety practices.  Allowing so much overspray to accumulate means that the cleaning tasks is monumental and is less likely to be completed.
The best answer is to routinely monitor the exhaust plenum, exhaust filters, fan and ductwork.  Change filters as necessary.
Keeping fresh filters is easy. We stock them by the case and will ship them to you free.