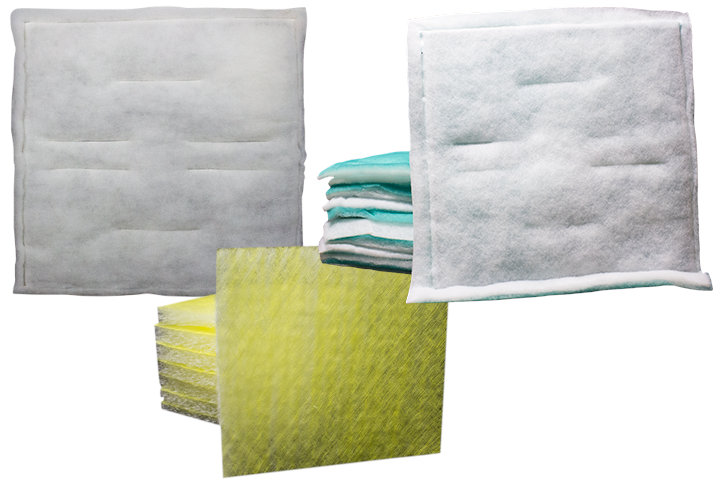 Air filters are key elements in any paint booth; they help ensure the booth operates properly, efficiently, and safely. Your spray booth cannot perform with clogged filters or incorrect media. Ignoring filter maintenance can also place everyone in the shop at risk for health and safety problems. Choosing the right filters, installing them correctly, and knowing the appropriate time to change them is essential in preventative maintenance.
Types of Paint Booth Filters
There are several different types of filter media to capture debris, foreign particles, overspray, and other contaminants.
The best way to know which type of replacement filters to get for your paint booth is to check the manufacturer's specifications. It's vital to choose the correct style, size, and material for the replacement filters to ensure your paint booth continues to function optimally.
When To Change a Filter
By nature, filters will eventually become clogged with debris. It's essential to replace them when they become full of debris. Using a paint booth with clogged filters drastically reduces the quality of the finish, the operational efficiency, and the safety of the shop's personnel.
It's important to follow the manufacturer's instructions for determining when to change your filters. Recommendations may be based on the number of operating hours or on calendar weeks/months. There may also be OSHA, EPA, and/or state guidelines for filter maintenance that you should be aware of and follow.
The exact operating conditions of your shop can affect the time it takes for your filters to get clogged, so you may need to replace them sooner than the average time frame recommended by the manufacturer. There are several visual cues you can rely on to determine when it's time to change your filters.
Intake filters: debris in the booth and/or blemishes in the finish
Exhaust filters: overspray remaining in the booth and/or continuous operation of the fan at 100% capacity
In general, you should wait no longer than six months to replace an intake filter. It's a good idea to replace an exhaust filter at least every month. However, it's best to conscientiously monitor the filters to determine when they are ready to be replaced. You can use a manometer in addition to the visual cues described above to get a clear and accurate picture of how your filters are performing.
Understanding a Manometer
Installing a manometer on your paint booth can make it easier to see when it's time to change the filter. All booths from Standard Tools come with a Dwyer manometer to measure air pressure. You should install a manometer at the rear of the paint booth near the exhaust filter so it can measure the difference in air pressure inside the booth before the filters and on the other side of the exhaust filters. The more clogged the filters are, the less air flow there is through the filters.
Once you install and calibrate a manometer, you can monitor when the filter starts affecting the booth's airflow and interior air pressure. We recommend changing exhaust filters when your manometer reading is 0.5" above the initial calibrated level. Watch how to install your manometer on our YouTube channel.
Proper Filter Maintenance Keeps Your Paint Booth Working Efficiently
You can use the manometer readings and visual observations to determine when the filters are full and need to be replaced. We carry a wide range of high-quality intake, exhaust, and AMU filters for various spray booth models. You can order in bulk to ensure you always have replacement filters on hand. Contact us today; our experienced team is ready to answer your questions and recommend the right replacement filters for your booth.