When you talk to as many people as I do on a daily basis in the sale of paint booths and heated air make up units (AMU), you soon realize that there is a vast array of companies that need and use this type of equipment. We started in the auto body market and quickly grew into many different areas, keeping our business fresh and exciting.
Last Spring,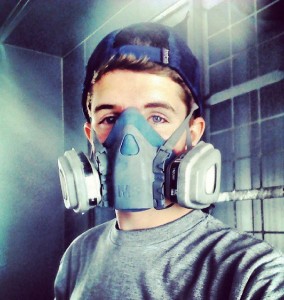 I got a call from a business owner in Boone, NC. Located just a couple hours from our home office. As I always do, I start with "What are you painting?" I talked to him about his business, his needs, his budget and what they do as a company. Our customers span across all industries and are located all over the world. Getting to know who they are and what they do is the most interesting part of my job and it helps me to best help in their search for a booth or AMU.
Will, of XP Climate Control was a great customer to deal with and we were able to quickly get him a booth that fit his needs and his space. We also did this at a price that fit his budget; after all … he is a small business owner. He went with a customized MSFB.
XP Climate Control manufactures explosion-proof climate control systems for hazardous environments, specializing in manufacturing special purpose environmental, heating, air-conditioning, ventilating and pressurization systems.
• Explosion-Proof Air Conditioning Systems
• Explosion-Proof Heat Pumps
• Explosion-Proof AC Units
• Explosion-Proof Climate Control Systems
• Explosion-Proof Climate Controls
They have provided their systems throughout the world. Some of their customers include chemical plants, oil refineries, the military, explosive storage and chemical storage. This is truly a unique company meeting a need in a very niche market.
While it was interesting to hear about what they did as a company, it was of equal value to me at the time as to where they were located. You see, I had a son who was going to be attending college in Boone in the Fall (Go Mountaineers!). After some small talk with Will, I just had to ask… "Hey, does your company ever hire college students for part time work?" He went on to tell me that they do try and keep a student or two on the part-time payroll. They like to support the area colleges, he said. I asked if I could call him when the time came to see if they had any openings. In true southern hospitality, the answer was "sure"!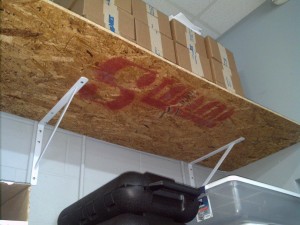 Time passed and my youngest son did, enthusiastically, move to the mountains of NC. I reached out to Will and made arrangements for my son to contact him about that part-time job. The pictures you see were taken by him after starting work there. Our booth can be seen in the background and I especially like their unique use of our shipping crate for a shelf.
We never know where a good conversation will lead us or the doors that will open for us through them. My son sure is glad for this conversation and the doors it has opened for him. I am truly grateful to work for a company that believes in helping small businesses like XP Climate Control afford the equipment they need to grow their company. We are excited to be a part of that growth and I hope my son can be a part of that growth for the near future as well.
Kelly Goudy