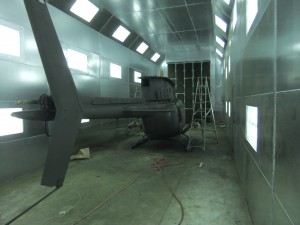 Did you know that Standard Tools and Equipment Co has been the paint booth suppler for several military operations?
I know what you might be thinking, "What would the military do with a paint booth?" Well, we supply very large paint booths for camouflage spray applications on helicopters, Humvees and other equipment. Now you're thinking, "Ahhhh….".
With so many paint booth manufacturers based outside the USA, we are proud to be in North Carolina!  It is truly an honor to be trusted to provide top-notch equipment to support our nation's mission overseas.  We have booths on military bases all over the country and the world.
Enjoy these photos from an undisclosed location! How cool are these behind-the-scenes shots?!