For around $200 in materials, anyone with some basic construction skills can create a paint booth. Isn't that scary? There are hundreds of sites and discussion boards online giving tips on how to build a homemade paint booth, and no two are the same. When looking into building your own homemade paint booth, just whom are you getting advice from? Do they know anything about the proper flow, safety, and design of a paint booth or are they just really crafty?
There are really only two methods: one too common & one correct.
All too common:
DIYer heads to their local big-box store to buy supplies (plywood, 2x4s, nails, any type of light fixtures, two HVAC fans, HVAC filters and some vinyl sheet for ductwork.)  DIYer cleans out a corner in the shop or garage and builds a booth. No worries about airflow, adequate filtration, egress or other such nonsense.  It may require a couple of attempts to get this part of the project just right.  Once complete, DIYer brags to their buddies about how inexpensive this project really was.  Once painting starts, DIYer leaves a door cracked for ventilation, leaving a high potential for an explosion or a fire. Overspray coats the item (due to poor air flow), the items around the booth (due to poor containment) and the items outside the shop (due to poor filtration).  DIYer dials 911 when the paint-soaked plywood ignites.
Correctly Install a Paint Booth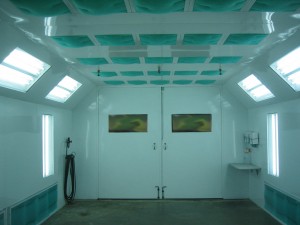 Price comparisons often keep hobbyists from exploring other options and considerations. It is possible to buy a pre-engineered spray booth manufactured in a high-quality shop and based on a proven design.  The booth comes with detailed installation, operation and maintenance manuals as well as experienced professionals available to answer any concerns.  Contractors come on-site to complete the booth's electrical, fire and ducting systems to ensure the highest safety.  Once a permit-of-occupancy is obtained from your local permitting authorities, you can enjoy the quality and productivity that your new spray booth provides for many years. [Plus, you can get extra work from the first guy after his fire.]