With the year winding to a close, you may hear a lot about "Section 179" and how you're business can benefit if you are looking to purchase some equipment before the new year.
We get just as confused as the next guy when you start talking "tax rate", "deductions" and "depreciation". We thought we would do a little research and try to explain how this could be a HUGE benefit to small businesses, we should know because Standard Tools is also a small business that takes advantage of incentives such as this.
When we say 'equipment', we mean any large purchase you buy to benefit your business. For example, a heated paint booth to help boost your productivity.  Since it's an 'investment' in your business, it is included in this category.
You can even finance it this year and still write it off to save thousands.
So, section 179 is what exactly? It's an incentive created by the U.S. government to encourage businesses to buy equipment and invest in themselves. Essentially, Section 179 of the IRS tax code allows businesses to deduct the full purchase price of qualifying equipment purchased (or financed) during the tax year. Wow! The FULL PURCHASE PRICE will be deducted from your gross income. (As long as the total purchase price is less than $2.2 million on equipment.
Several years ago, Section 179 was often referred to as the "SUV Tax Loophole" or the "Hummer Deduction" because many businesses have used this tax code to write-off the purchase of qualifying vehicles at the time. Today, Section 179 is an incentive to help small businesses.
Essentially, Section 179 works like this:
When your business buys certain items of equipment, it typically gets to write them off a little at a time through depreciation. In other words, if your company spends $50,000 on a machine, it gets to write off (say) $10,000 a year for five years (these numbers are only meant to give you an example).
Now, while it's true that this is better than no write off at all, most business owners would really prefer to write off the entire equipment purchase price for the year they buy it.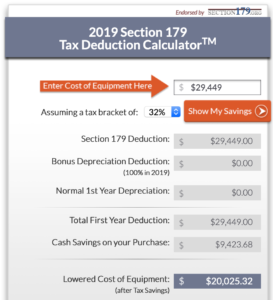 In fact, if a business could write off the entire amount, they might add more equipment this year instead of waiting over the next few years. That's the whole purpose behind Section 179 – to motivate the American economy (and your business) to move in a positive direction.
How much Can Section 179 Really Save You? THOUSANDS!
If you decided to purchase our heated Semi-Downdraft Paint Booth at Our Sales Price of $29,449, you would end up saving $9,423.68 (depending on your tax bracket)!
* In order for your equipment to qualify, your order MUST BE SHIPPED before December 31st. Now is the time to get your order placed and paint booth into production to ensure it can leave before the new year hits. Give us a call to get your booth designed and order placed into production, 888-312-7488.
Get more information on Section 179.