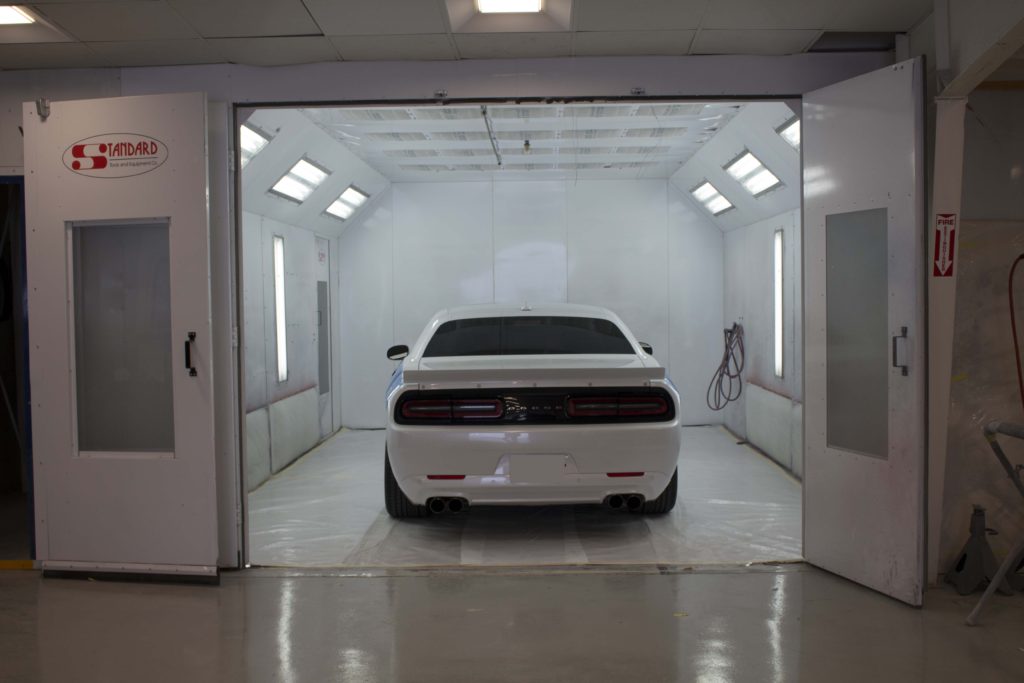 Adding a paint booth to your shop can upgrade the functionality of the entire space, significantly increasing your productivity. There are various types of paint booths available from Standard Tools, so you'll want to compare the features and costs of several models before choosing the one that's best for your shop. You may even decide to customize your paint booth by adding a heated air make-up unit or extra lights.
Before you purchase your paint booth, however, it is imperative to make sure you create a safe environment in your shop that meets applicable regulations and ensures the spray booth can function properly. For safe operation, your paint booth setup must meet fire code, exhaust, and airflow requirements.
Overview of Safety Regulations
There are both federal and local regulations that may apply to your paint booth. For example, The Occupational Safety and Health Administration (OSHA) has criteria for spray booths, and so does the National Fire Protection Association (NFPA). Because painting involves hazardous and/or flammable chemicals, it is essential to make sure controls are in place to prevent injuries to people and property. There are several essential aspects for paint booth safety:
Fire mitigation
Air quality
Ventilation
Airflow
Electrical safety
Personnel protection
Most federal requirements cover the manufacturing of paint booths, so you don't necessarily have to be familiar with them as long as you purchase your booth from a reputable manufacturer. However, you still have to make sure you follow your local government's codes when installing your paint booth.
Local Rules and Codes
One of the first steps toward getting a paint booth is understanding your city or county's building and permit codes. For example, your local government may require you to pull certain permits before installing and operating a paint booth in your building. Local regulations may also require you to get a paint booth with a third-party safety certification, such as an ETL-listed paint booth.
Paint booths utilize flammable substances, so adequate fire protection is essential, both for the spray booth and the shop itself. Before you choose a paint booth, you should check your state or local regulations to find out if you need to have a fire suppression system. Even if your local laws don't require you to install this type of equipment, you may want to schedule a building inspection by your fire marshal to ensure everything is safe and up to code before you order and install a paint booth.
Another aspect of spray booth operation involves air quality. Improperly designed or installed paint booths can release hazardous air pollutants, which can have serious environmental effects that can harm people and property.
Your local EPA office may provide information on reducing HAPs. Depending on your circumstances, you may need to follow National Emission Standards for Hazardous Air Pollutants guidelines. Proper operation of your paint booth is another key aspect of reducing harmful emissions. Ensuring compliance with local EPA regulations can help you protect your community and environment.
Elements of a Safe Shop
The exact requirements for your building may depend on the type of paint booth you plan to install. For example, a woodworking spray booth is different than an automotive paint booth. Each paint booth model may have unique requirements for power/voltage, ventilation, and airflow. The dimensions of your shop, including the height of the ceiling, may also limit your options to paint booths of a certain size.
Many buildings require ductwork to carry paint booth exhaust outside. The design of your ductwork depends on the layout of your shop and your local regulations. The ductwork and shop layout requirements may change if you decide to add an air make-up unit to your booth.
Purchasing and Setting Up Your Paint Booth
When you're ready to enhance your shop with a paint booth, the first step is to walk through all the safety protocols and local regulations to ensure you create a safe environment for operating a spray booth. You can talk to your local government authorities, electricians, and fire protection agencies to ensure your paint booth setup complies with applicable regulations. It's essential to know about ductwork, fire suppression, and ETL requirements before choosing a paint booth.
Once you've worked through these steps, you can choose the right spray booth. Our expert associates can help you figure out which model meets your operational and budgetary requirements. We can even customize your paint booth or help you choose an AMU to improve productivity and performance. Give us a call when you're ready to get started at 888-312-7488.