Choosing the right paint booth for your shop involves more than just picking the dimensions and features you want. You also need to think about installation and longevity. Fortunately, our booths check all the boxes; they're durable, easy to install, and available in a wide range of sizes and configurations.
What Makes Our Paint Booths Different?
We are committed to providing the best paint booths on the market, so we build them out of top-quality materials and offer a wide range of customization options. One of the main things that sets our booths apart is how the panels are fastened together; our booths utilize Tek screws rather than nuts and bolts. While most booths on the market are designed for nut-and-bolt assembly, there are several potential downsides to this method:
Precut holes on the panels may not line up perfectly because floors are not perfectly level.
Lining up and attaching each bolt, washer, and nut is time-consuming.
Nuts and bolts can loosen over time.
To avoid the headaches of nuts and bolts, we use Tek screws for our booths. This innovative solution can drastically reduce the installation time for your booth without compromising structural integrity or strength.
What Are the Benefits of Tek Screws?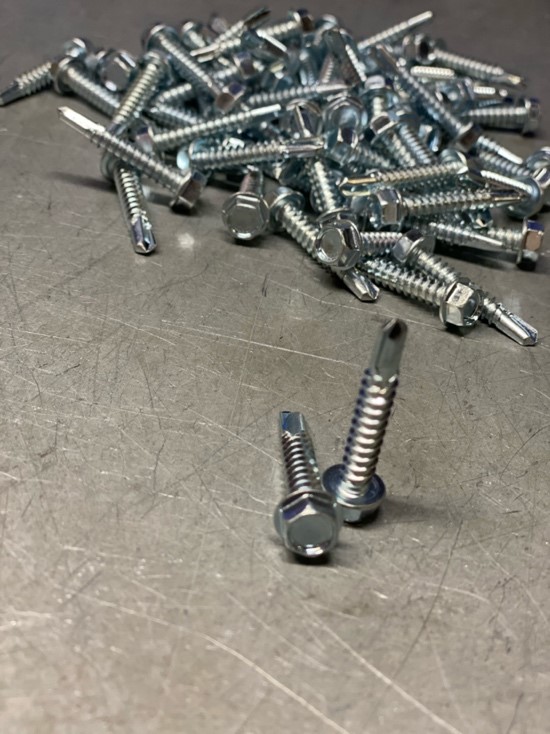 Tek screws are so easy to use that it can seem like they may be inferior to the nut-and-bolt method. However, Tek screws are the preferred method for paint booth construction because they're designed for the construction of large metal buildings, and a paint booth is essentially just a smaller version.
DIY-Friendly
Installing a paint booth may seem like a daunting process, but it's actually extremely simple, especially when you use Tek screws. These fasteners make it simple and fast to assemble a paint booth without spending thousands on a professional installer. In fact, about 80% of our customers install their booths themselves.
Self-Drilling Installation
Tek screws don't require predrilled holes. This means you don't have to worry about lining up the existing holes in two panels in order to attach them together. It can be especially hard to get all the predrilled holes to line up if your floor isn't completely level or your booth panels were not manufactured perfectly. With Tek screws, these issues don't exist. The Tek screw drills its own hole during installation, so it's easy to ensure your panels are fastened securely and accurately.
Designed for Metal-to-Metal Applications
While nuts and bolts have a wide variety of uses, that doesn't necessarily mean they are the best option for every situation. Tek screws were created for metal-to-metal applications, so they're optimized for this type of construction. We are so sure that Tek screws are the best option for metal buildings that our 75,000 sq. ft. warehouse is constructed with them and has been for over 20 years!
Fast and Efficient
Assembling panels with nuts and bolts takes significantly more time to install. The predrilled holes need to perfectly align and each bolt and washer are tightened with every nut. This process is even more challenging if you are standing on a ladder.
It only takes half as long to fasten panels together with Tek screws. The process is to secure the panels by simply clamping them together and then using a drill fitted with the Tek screw itself.
Durable and Long-Lasting
Another advantage of Tek screws is that they create an extremely durable metal building. Nut-and-bolt construction can loosen over time, causing the panels to misalign or become insecure. Tek screws are designed for long-term use in heavy-duty applications, and they don't tend to loosen on their own. Some of our paint booths constructed with Tek screws have been in use for over two decades!
Reusable
Because Tek screws drill their own holes and create such strong attachments, it may seem like they are impractical for paint booths. What if you want to move your booth to another location? Is it even possible to disassemble it without ruining the panels? Another great benefit of Tek strews is that they can be removed safely without affecting the reassembly options for your booth.
If you need to disassemble and move your booth, you can simply reconstruct it in the new location. Either reuse your Tek screws by installing them in new self-drilled holes or reuse the same holes with slightly larger Tek screws.
Find Your Perfect Paint Booth Today
When you invest in a paint booth for your shop, you want to feel confident that you are getting a high-quality building that will last for years. When you order from us, you can be sure you are getting a booth that's made of the best materials and manufactured to exceptional standards. Tek screws allow you to assemble the booth yourself quickly and easily. You can save money on installation costs and be sure that your panels are fastened securely. Our team is here to answer all your questions, and we can even customize a booth for you. If you want more details on the installation process or need a little bit of help along the way, just contact our experts.